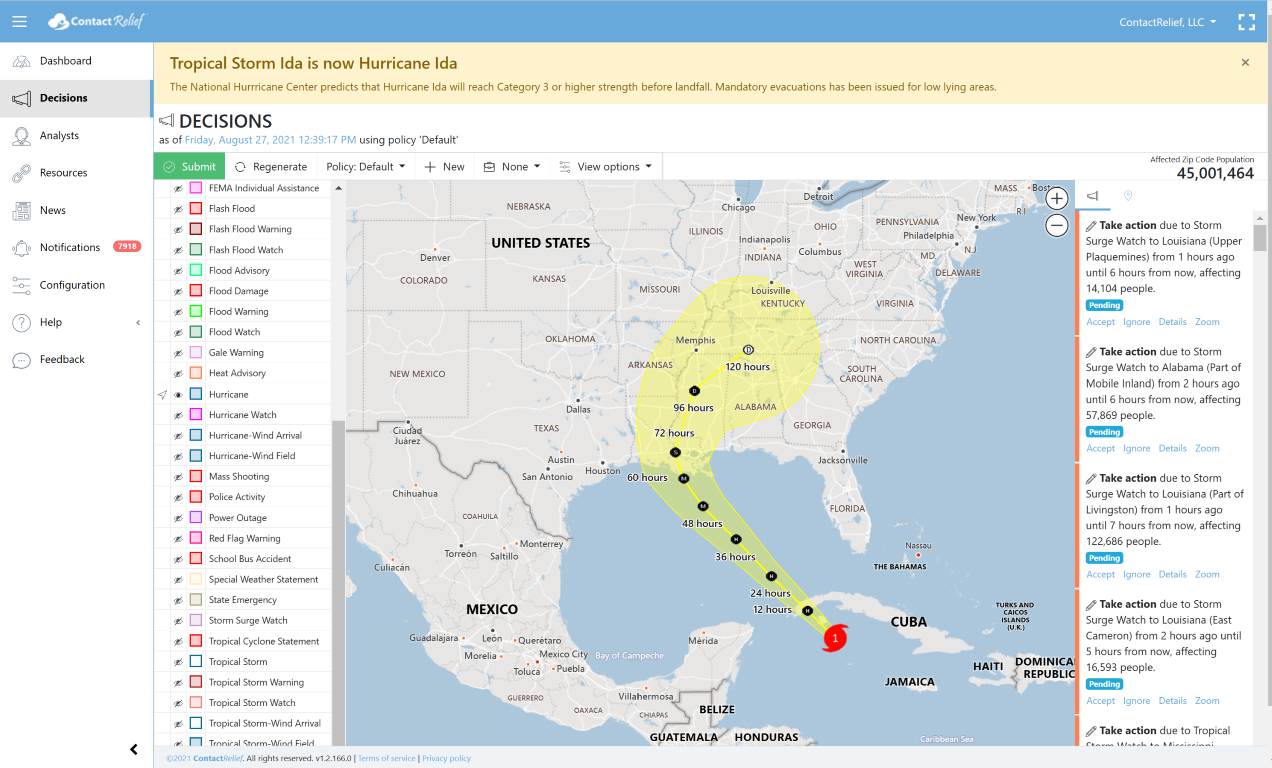 Hurricane Ida now a Category 1 Hurricane
Friday, 27 August 2021 18:04:08 +00:00
Ida has reached Category 1 hurricane strength and further strengthening is expected. On the current forecast track, Ida is expected to strike Louisiana late Sunday evening or early Monday morning at major hurricane strength (Category 3 or above). There is a possibility of tropical storm force winds from Texas to Alabama. It is still early in the life of this storm and the forecasted path and speed of the storm could change.
Evacuations have been issued for low lying areas around New Orleans.
Key Messages
Life-threatening storm surge and hurricane conditions are expected later today and tonight in portions of western Cuba, including the Isle of Youth, where a Hurricane Warning is in effect. Life-threatening heavy rains, flash flooding and mudslides are expected across Jamaica, the Cayman Islands, and western Cuba, including the Isle of Youth.
The risk of life-threatening storm surge inundation is increasing along the coasts of Louisiana, Mississippi, and Alabama. Inundation of 7 to 11 feet above ground level is possible within the area from Morgan City, Louisiana, to Ocean Springs, Mississippi, including Lake Borgne. Interests in these areas should follow any advice given by local officials.
Ida is expected to be a dangerous major hurricane when it reaches the northern Gulf Coast on Sunday, and the risk of hurricane-force winds continues to increase, especially along portions of the Louisiana coast, including metropolitan New Orleans. Potentially devastating wind damage could occur where the core of Ida moves onshore.
Ida is likely to produce heavy rainfall later Sunday into Monday across the central Gulf Coast from southeast Louisiana to coastal Mississippi and Alabama, as well as the Lower Mississippi Valley, resulting in considerable flash, urban, small stream, and riverine flooding.
Wind Speed Probabilities
Flash Flooding Potential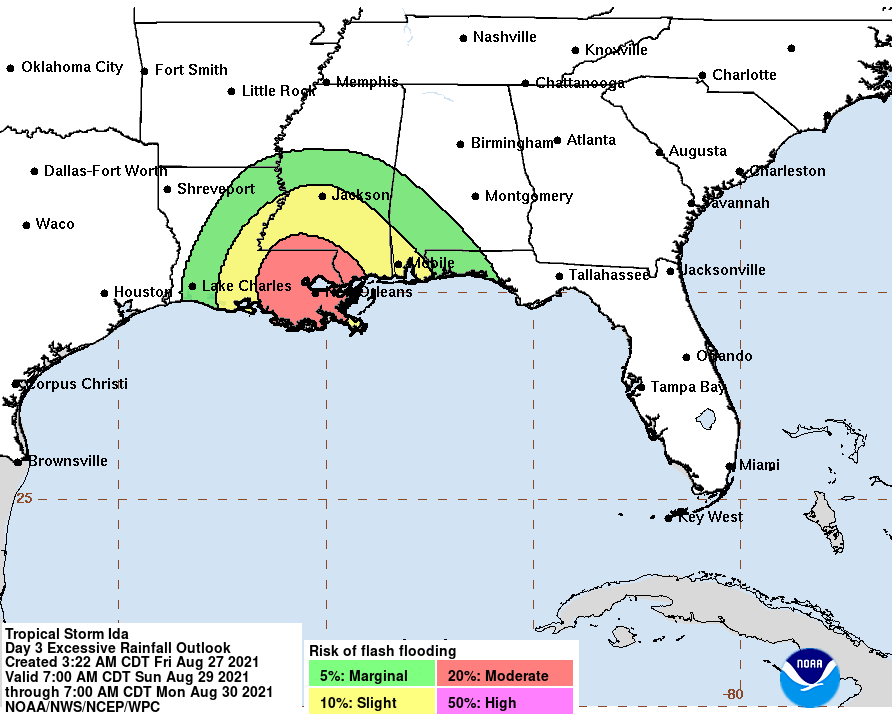 Storms tracks may change so stay tuned
Companies with interests along the Gulf Coast should pay special attention.
Recommendations for Contact Centers
ContactRelief has issued Tropical Weather Strategy alerts and recommendations for the affected areas. Contact centers should monitor the forecast track, wind field size, and arrival time of tropical force winds in the ContactRelief Command Center and take action if there is any deviation of either storm's forecasted track.
The ContactRelief Disaster Decision Team will continue to monitor the storm's development and issue additional advisories as warranted.
Don't Delay
The next disaster is on its way. Become a ContactRelief subscriber and keep your company protected from disaster. Our full recommendations consist of the areas impacted and the associated Zip Codes. For as little as $750 per month your company can quickly implement a solution that protects your company and its customers. As we say at ContactRelief, "It's just smart business."
Contact sales@contactrelief.com for more information.