Discover Disasters
Alerts from public and private alerting authorities along with breaking news are monitored around the clock by our cloud-based systems and staff of analysts.
Real-Time disaster alerts...

ContactRelief's Disaster Decision Engine discovers what's affecting your customers, whether it's natural or man-made giving you real-time customer intelligence to help reduce your risk and optimize your operations during times of crisis.
Our cloud-based systems have direct connections to multiple public and private alerting authorities. With 5-minute resolution and timely notification of disaster alerts, you'll know what your customers are experiencing and where and when to respond.
...for all natural and man-made disasters...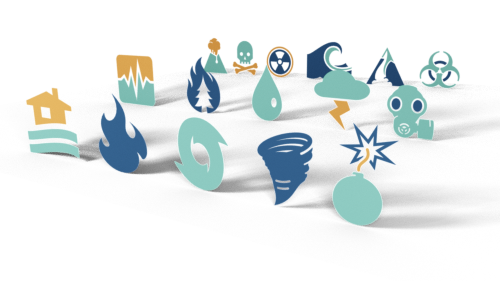 FEMA Fire, Emergency, and Disaster Declarations
State of Emergency Declarations from all 50 U.S. states
Hurricane tracks and alerts
Tornado touchdown alerts
Flood onset alerts
Wildfire perimeters and evacuation notices
Earthquake and Tsunami alerts
Power outages by county
Breaking news alerts
Terrorism events
Civil unrest
Mass shootings
School shootings
School closures
Industrial accidents
Package delivery suspensions
and much more
Direct connection to FEMA's national alerting system

Direct connection to FEMA's Integrated Public Alert and Warning System (IPAWS), provides real-time alerts from more than 1,100 federal, state, local, tribal, and territorial authorities, ensuring you have a complete picture of the situation on the ground as events unfold. By monitoring FEMA's declaration activity, we provide best in class reporting of FEMA Emergency and Disaster Declarations so you don't have to continually monitor FEMA's websites.

Weather alerts and hurricane tracking

ContactRelief monitors the United States National Weather Service, which issues alerts when severe weather is forecasted to impact your customers. This means you get advanced warning of floods, tornadoes, hurricanes, and much more. By also directly monitoring the National Hurricane Center, ContactRelief shows you the most probable hurricane track and its cone of uncertainty days in advance of landfall. This allows you to take proactive action and service your customers before contact suspensions go into force.

Wildfire monitoring

ContactRelief monitors the national wildfire reporting systems giving you daily updates on wildfires. Wildfire perimeters are mapped so you can see precisely who is affected. As firefighters bring the blaze under control, see the updated "Percent Containment" numbers directly from firefighting officials. When wildfires threaten urban populations local officials order evacuations, you will know exactly where and when they are issued and how many people are affected.

Nationwide power outage levels

ContactRelief provides the only nationwide power outage monitoring service for contact centers. With real-time notifications on power outages for most counties across the United States, ContactRelief shows you what percentage of your customers are currently without power.

Package delivery suspensions

ContactRelief's extensive monitoring capabilities also extend to the United States Postal Service and major delivery companies including FEDEX and UPS. When disasters prevent these companies from completing their routes, ContactRelief provides a comprehensive breakdown of what customers are affected.
...with notifications to your mobile device...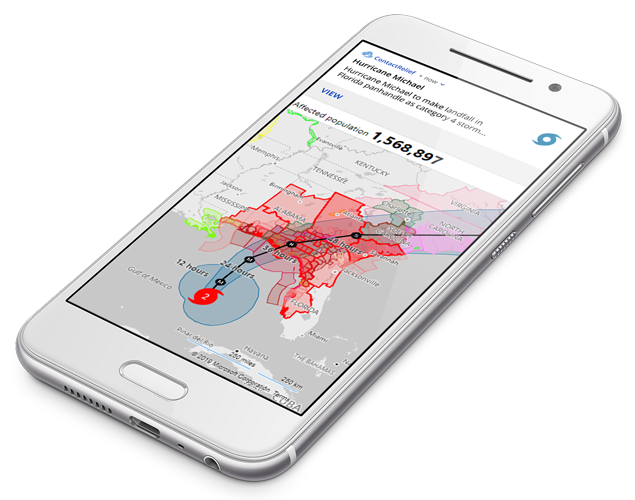 Get notified quickly on your mobile device via the ContactRelief iOS and Android mobile app.
...and detailed alert information.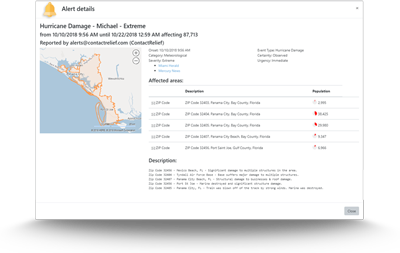 Up to the minute details on what is happening and precisely who is affected is only a click away. You'll know the expected onset of the disaster, how long it will last, and the states, counties, zip codes, area codes, telephone exchanges or localized area that is affected.
Links to local and national Internet news reporting help you understand the national importance and direct impact of the event on your customers.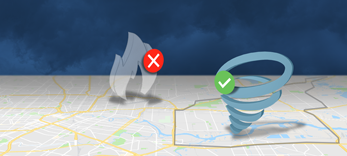 Decide how to interact with your customers using a customizable, rules-driven decision engine that generates precise localized contact strategy recommendations.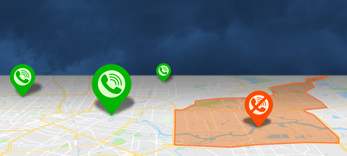 Communicate to CRM, dialer, and omni-channel systems and partner ecosystems to reach 5X more customers.