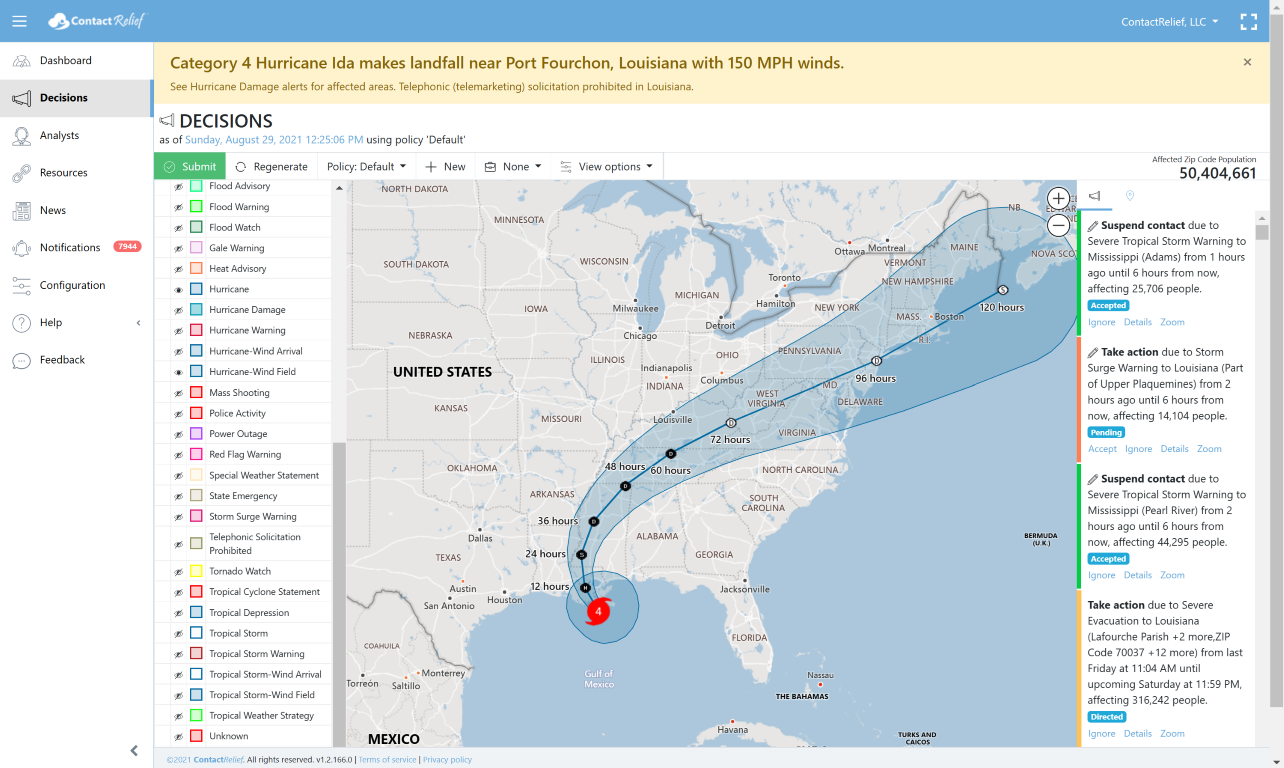 Hurricane Ida makes landfall near Port Fourchon, Louisiana
Sunday, 29 August 2021 17:38:25 +00:00
Hurricane Ida made landfall Sunday 08/29/2021 at 11:55 AM neat Port Fourchon, Louisiana. At landfall, Ida was a Category 4 storm with winds exceeding 150 MPH.
Telephonic solicitation (telemarketing) is prohibited in Louisiana until further notice.
Key Messages
Extremely life-threatening storm surge inundation of 9 feet or greater above ground level is imminent somewhere within the area from Burns Point, Louisiana, to Ocean Springs, Mississippi. Overtopping of local levees outside of the Hurricane and Storm Damage Risk Reduction System is possible where local inundation values may be higher.

Catastrophic wind damage will occur where the core of Ida moves onshore along the southeast coast of Louisiana in the next few hours. Hurricane-force winds and damaging wind gusts are expected today within the Hurricane Warning in southeastern Louisiana, including metropolitan New Orleans.

Damaging winds, especially in gusts, will spread inland near the track of the center of Ida into southwestern Mississippi tonight and early Monday. These winds will likely lead to widespread tree damage and power outages.

Ida will continue to produce heavy rainfall today through Monday across the central Gulf Coast from southeast Louisiana, coastal Mississippi, and far southwestern Alabama, resulting in considerable to life-threatening flash and urban flooding and significant river flooding impacts. As Ida moves inland, significant flooding impacts are possible across portions of the Lower Mississippi, Tennessee Valley, Upper Ohio Valley, Central Appalachians and the Mid-Atlantic through Wednesday.


Wind Speed Probabilities
Flash Flooding Potential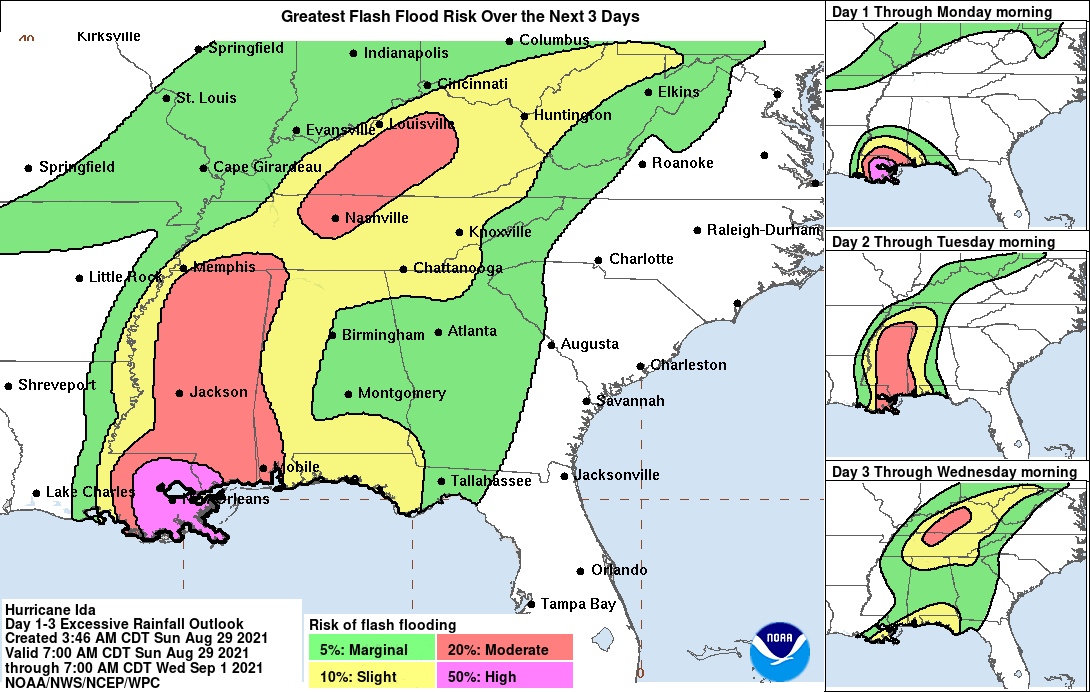 Storms tracks may change so stay tuned
Companies with interests along the Gulf Coast should pay special attention.
Recommendations for Contact Centers
ContactRelief has issued Tropical Weather Strategy alerts and recommendations for the affected areas. Contact centers should monitor the forecast track, wind field size, and arrival time of tropical force winds in the ContactRelief Command Center and take action if there is any deviation of either storm's forecasted track.
The ContactRelief Disaster Decision Team will continue to monitor the storm's development and issue additional advisories as warranted.
Don't Delay
The next disaster is on its way. Become a ContactRelief subscriber and keep your company protected from disaster. Our full recommendations consist of the areas impacted and the associated Zip Codes. For as little as $750 per month your company can quickly implement a solution that protects your company and its customers. As we say at ContactRelief, "It's just smart business."
Contact sales@contactrelief.com for more information.
Weather alerts, emergencies, and breaking news are monitored around the clock. The Disaster Decision Engine applies your rules to help you decide when to take action for your consumers. Your recommendations are sent to your contact centers and partners with ZIP Code granularity.