Hurricane Nicholas makes landfall in Texas with 75 MPH winds and heavy rain
Tuesday, 14 September 2021 05:34:08 +00:00
Hurricane Nicholas made landfall near the eastern near the eastern part of Matagorda Peninsula around 2:30am Tuesday Morning (09/14/2021) with maximum winds of 75 MPH. After making landfall, Nicholas weakened and is now a Tropical Storm.
The damage from Nicholas is largely expected to come from flash flooding and flooding as it makes it way over Southeast Texas and into Louisiana over the next two days.
Tropical Storm Warnings are in effect in Texas. Texas issued a State Disaster declaration and Louisiana issued a State of Emergency declaration in preparation for the storm.
Key Messages from the National Hurricane Center
1. Heavy rainfall will impact areas from the upper coast of Texas, across Louisiana, southern Mississippi and far southern Alabama through the middle of the week. Significant rainfall amounts are expected, potentially resulting in areas of life-threatening flash and urban flooding across these areas. Minor to isolated major river flooding is also possible in smaller river basins and urban areas.
2. There is the danger of life-threatening storm surge inundation along the coast of Texas from Sargent to Sabine Pass. Residents in these areas should follow any advice given by local officials.
3. Tropical storm conditions are expected in Tropical Storm Warning area along the Texas coast today and along the southwestern Louisiana coast by afternoon.
Wind Speed Probabilities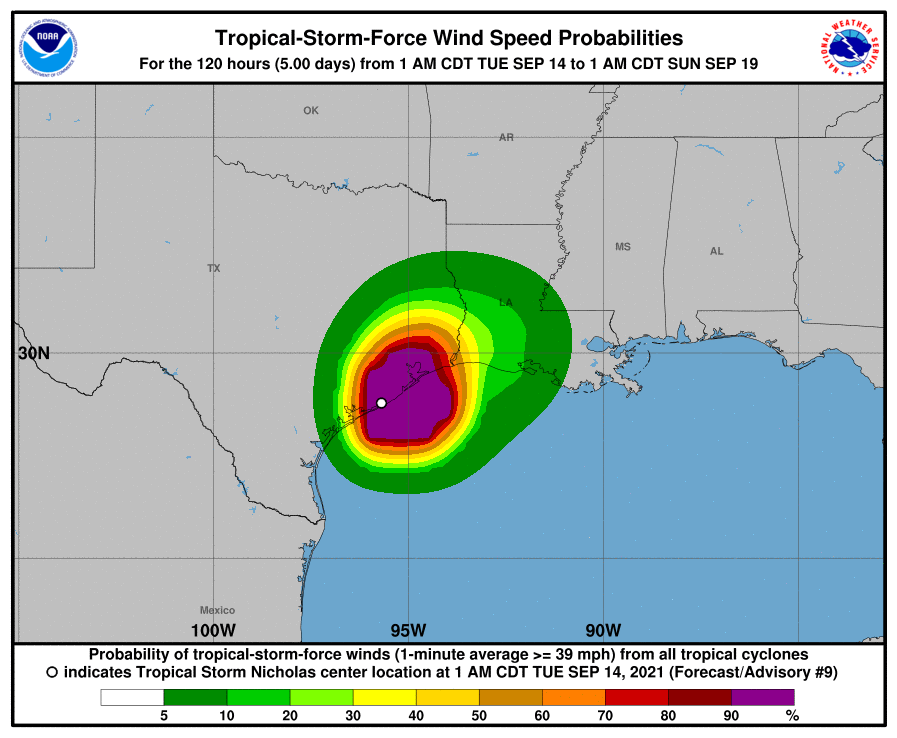 Rain Estimates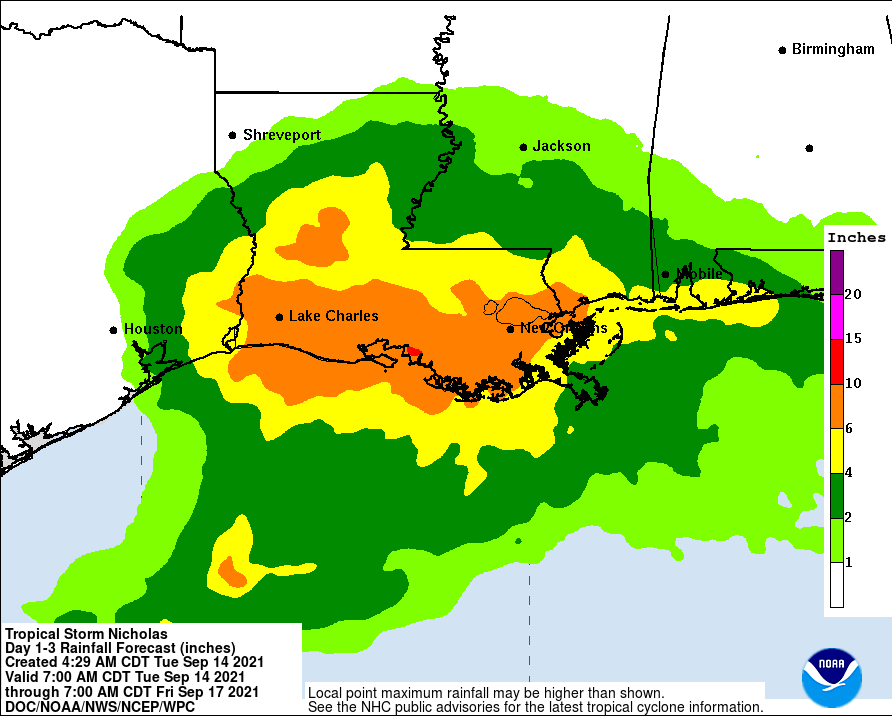 Storms tracks may change so stay tuned
Companies with interests along the Gulf Coast should pay special attention.
Recommendations for Contact Centers
ContactRelief has issued Tropical Weather Strategy alerts and recommendations for the affected areas. Contact centers should monitor the forecast track, wind field size, and arrival time of tropical force winds in the ContactRelief Command Center and take action if there is any deviation of either storm's forecasted track or intensity.
The ContactRelief Disaster Decision Team will continue to monitor the storm's development and issue additional advisories as warranted.
Don't Delay
The next disaster is on its way. Become a ContactRelief subscriber and keep your company protected from disaster. Our full recommendations consist of the areas impacted and the associated Zip Codes. For as little as $750 per month your company can quickly implement a solution that protects your company and its customers. As we say at ContactRelief, "It's just smart business."
Contact sales@contactrelief.com for more information.