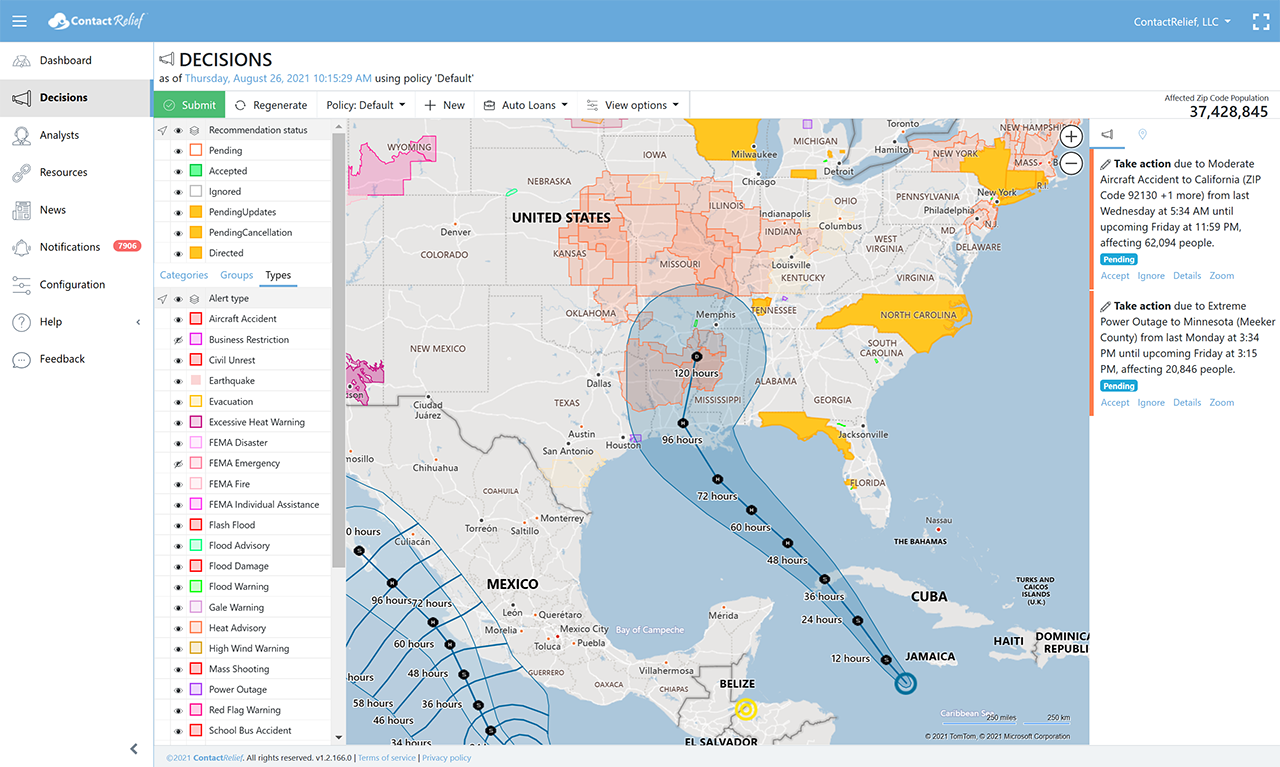 Tropical Depression Nine Forecasted to Strike Louisiana as a Hurricane
Thursday, 26 August 2021 15:35:41 +00:00
Tropical Depression Nine is expected to reach hurricane strength on Saturday and make landfall somewhere on Gulf Coast on Sunday. On the current forecast track, Nine is expected to strike Louisiana late Sunday evening or early Monday morning at hurricane strength. The storm may strengthen before landfall and could reach major hurricane strength (i.e., Category 3 or higher) before landfall. There is a possibility of tropical storm force winds from Texas to Alabama. It is still early in the life of this storm and the forecasted path and speed of the storm could change.
Key Messages
Tropical storm conditions are likely in portions of the Cayman Islands tonight and western Cuba Friday and Friday night, with dangerous storm surge possible in portions of western Cuba, including the Isle of Youth, in areas of onshore flow.
The system is expected to produce life-threatening heavy rains, flash flooding and mudslides across Jamaica, the Cayman Islands, western Cuba, including the Isle of Youth and northeastern portions of the Yucatan Peninsula.
This system is forecast to approach the northern Gulf Coast at or near major hurricane intensity on Sunday, although the forecast uncertainty is larger than usual since the system is just forming. There is a risk of life-threatening storm surge, damaging hurricane-force winds, and heavy rainfall Sunday and Monday along the northern Gulf Coast from the Florida Panhandle to the upper Texas coast, with the greatest risk along the coast of Louisiana. Interests in these areas should closely monitor the progress of this system and ensure they have their hurricane plan in place.
Wind Speed Probabilities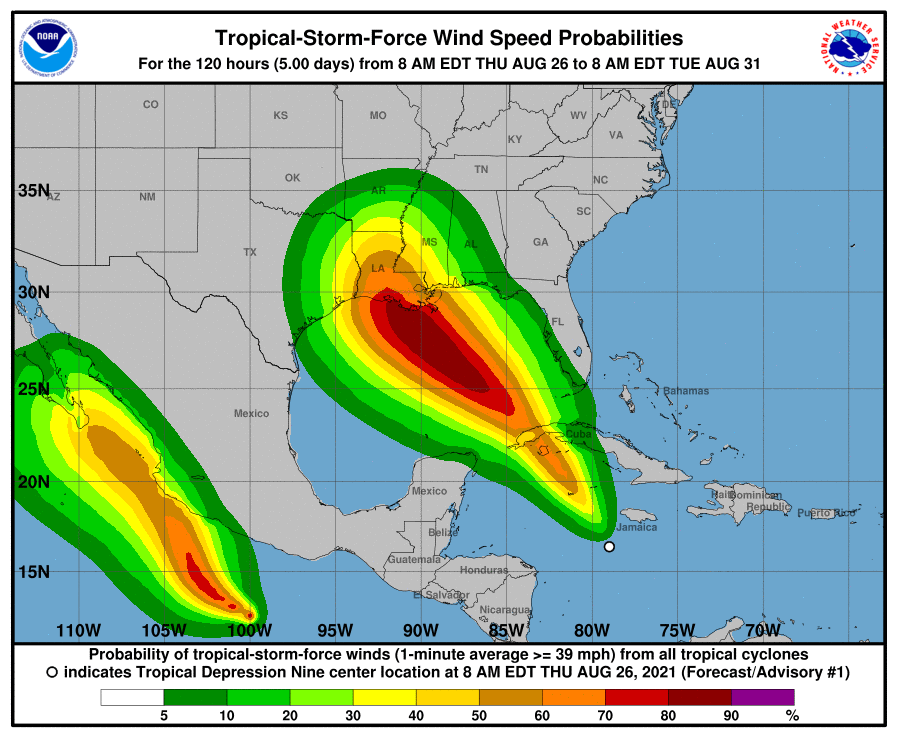 Storms tracks may change so stay tuned
Companies with interests along the Gulf Coast should pay special attention.
Recommendations for Contact Centers
ContactRelief has issued Tropical Weather Strategy alerts and recommendations for the affected areas. Contact centers should monitor the forecast track, wind field size, and arrival time of tropical force winds in the ContactRelief Command Center and take action if there is any deviation of either storm's forecasted track.
The ContactRelief Disaster Decision Team will continue to monitor the storm's development and issue additional advisories as warranted.
Don't Delay
The next disaster is on its way. Become a ContactRelief subscriber and keep your company protected from disaster. Our full recommendations consist of the areas impacted and the associated Zip Codes. For as little as $750 per month your company can quickly implement a solution that protects your company and its customers. As we say at ContactRelief, "It's just smart business."
Contact sales@contactrelief.com for more information.
Get in touch
Shaping your outbound contact away from disaster stricken areas isn't just the right thing to do, it's smart business. To learn more about how ContactRelief can help you protect your brand, reduce your risk of adverse actions, and improve your contact center efficiency, click below to contact us.
Contact us