ContactRelief in the Media
Check out our recent coverage to see how we can help you through your next disaster.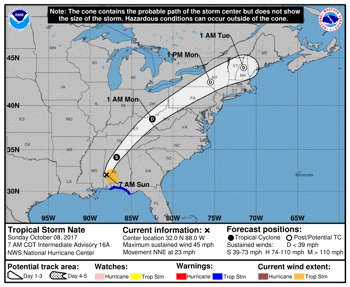 Hurricane Nate Makes Landfall - Now a Tropical Storm.
Hurricane Nate makes landfalls in Louisiana and Mississippi with storm surge driven flooding in some coastal areas.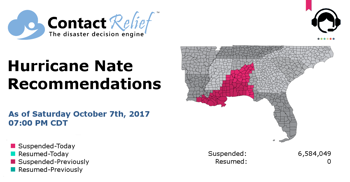 Hurricane Nate Recommendations for Contact Centers
Hurricane Nate makes landfall near the mouth of the Mississippi River.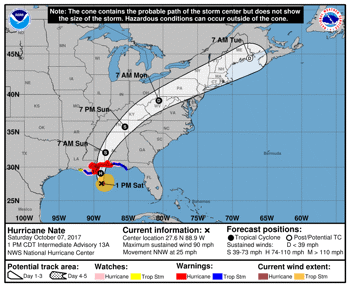 Outer Bands of Hurricane Nate Now Hitting Louisiana
Hurricane Nate, racing towards Louisiana, expected to be a Category 2 storm by landfall.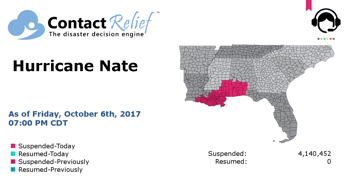 Hurricane Nate Speeds Across the Gulf Of Mexico Towards the U.S.
Now Category 1 Hurricane Nate may intesify slightly before making landfall Saturday night.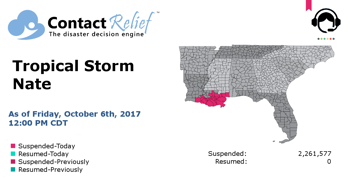 Tropical Storm Nate Expected to Reach Hurricane Strength By Sunday
Tropical Storm Nate will intensify to hurricane strength as it moves through the Gulf Of Mexico towards the Louisiana coastline.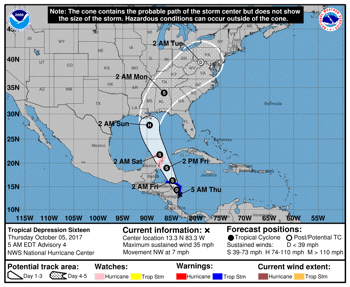 Hurricane "Nate" Threatens Central Gulf Coast By Sunday
Tropical Depression 16 track shifts westward directly threatening Louisiana, Mississippi, Alabama, and Florida.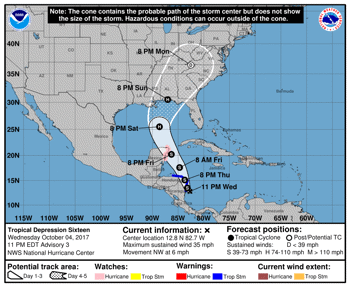 Hurricane "Nate" Expected to Strike the U.S. This Weekend
Tropical Depression 16 forecasted to grow to hurricane strength and strike Gulf Coast on Sunday, October 8th.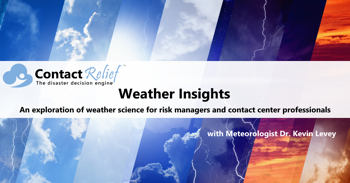 Looking ahead to this winter!
ContactRelief Consulting Meteorologist Dr. Kevin Levey looks at the long-range precipitation forecast for the upcoming winter season.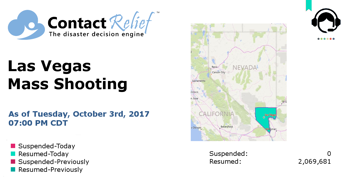 ContactRelief Recommendations for Contact Centers (Las Vegas Mass Shooting)
ContactRelief recommends resuming contact with Clark County, Nevada.
Protect your brand AND revenue when disaster strikes.
Try ContactRelief FREE for 30 days. Discover how we can help you reach up to 5x more customers in a disaster zone – while protecting your brand image.
Start free trial